What a year 2020 has been, I hope everyone is staying safe, I know how difficult these times have been for everyone including myself and my family - but the music helps, even if just a distraction to find a moment of peace.
With that said I'd like to give you few updates over here at Tree of Life Studio and my own harp guitar projects.
In studio news, I've finished up a few albums and EPs since my last update including Wes Parker, Sean de Burca and Kat Gruvs- all of which you can purchase, download and stream from their sites! We are literally finishing up Alex Brubakers album tonight with some last minute updates to the final master files so stayed tune for that album "Building Harmonic Castles" out soon! Its been a bummer that due to the pandemic I've had to cancel a few recording projects that were scheduled for this year but I'm taking this time to continue work on my second album "ShadowLight" as well as working on a special campaign which is....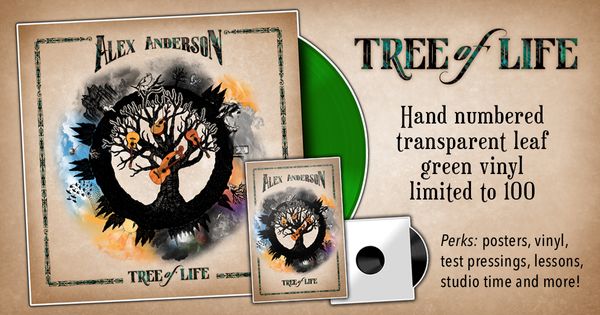 VINYL! https://igg.me/at/treeofliferecord
I've decided to start a campaign to release on my start up label "Tree of Life Records" a special limited to only 100 color 180g vinyl copies of my debut album "Tree of Life" - read the story behind it and check out all the great perks at the site above, every contribution means the world to me!
I'm hoping to get some more new music out there soon including a new single and video once things get a little more back to "normal"... whatever that may mean to come...
Thanks as always for your support!
Alex